Moreish Winter Bacon and Vege Soup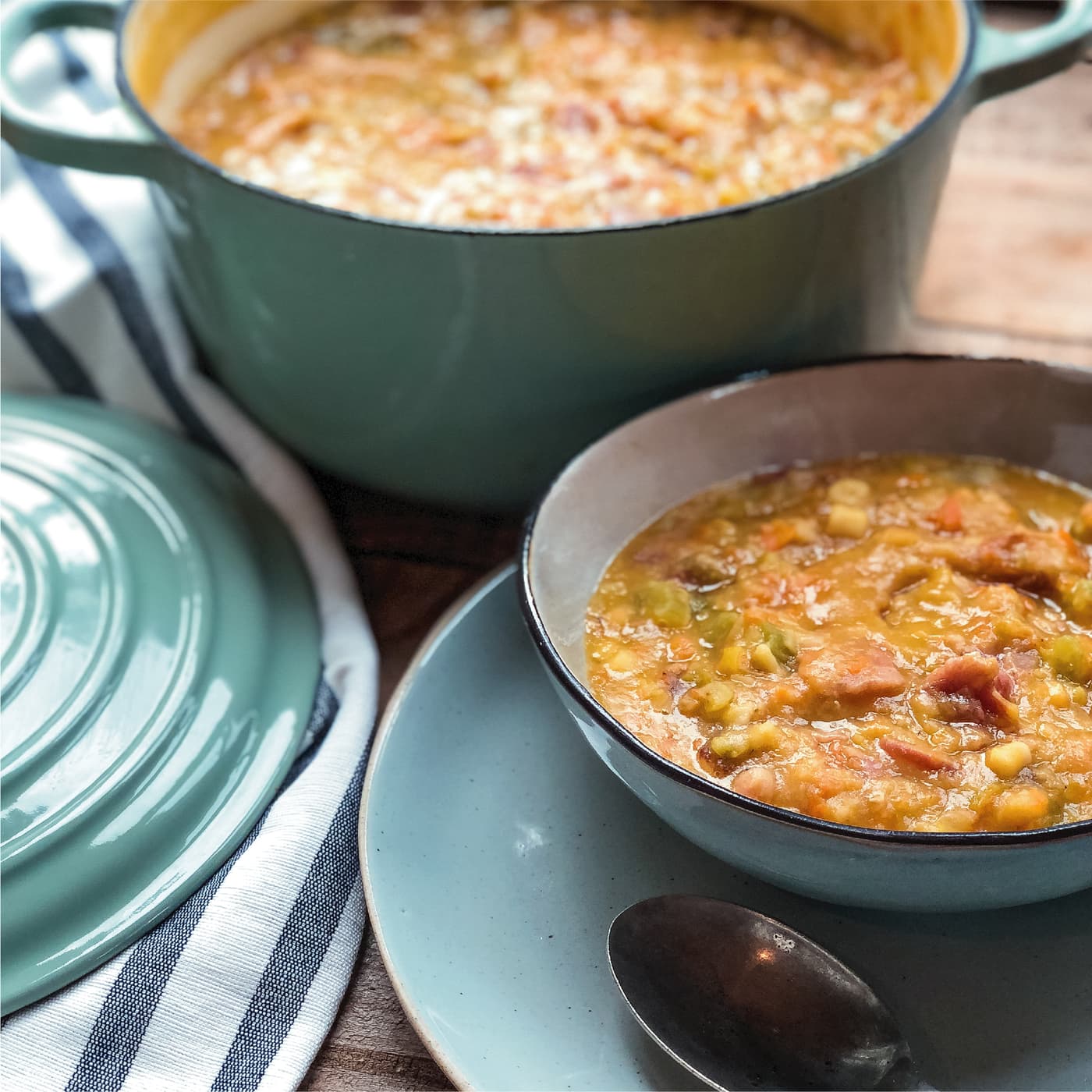 Ingredients
1 large onion, chopped
1 – 2 fresh or dried bay leaf
2-3 carrots, chopped
2 stalks celery, chopped
3-4 litres water, depending on how big your hock is, you'll want to have the hock covered when it's in the pot.

1 x 210g packet of vegetable soup mix
1 cup red lentils
2 cups salt-reduced vegetable or chicken stock
1 large leek, thinly sliced
4-5 stalks celery, chopped
2 large carrots, grated
2 cubes vegetable stock powder
salt and pepper to taste (the hock may be salty enough so add to your own personnel taste preference)
Method
Method
Place the bacon hock, onion, bay leaf, chopped carrots, celery, and water into a large stock/soup pot. Cover and simmer over a very low heat for 2–3 hours, or until the meat is falling off the bone.
Gently remove the pork hock and set aside to cool. Strain the cooking liquid only reserving the liquid and discarding the cooked vegetables. This will leave you with a nice broth/liquid base to continue making the soup.
Once the bacon hock is cool enough to handle, remove the meat from the bone, make sure larger pieces of meat are cut into small pieces. Discard the bone and skin.
Pour the liquid/broth back into the pot (rinsed and cleaned pot that you started with) along with the soup mix and lentils and simmer for 30 minutes, or until the mix and peas are starting to soften up ( they will start to go mushy once they release there starch) Add the meat back into the liquid with the leek, celery, grated carrot and stock powder, and cook until the vegetables are tender, about 30 minutes.
Taste and season with salt and pepper.