Waffle Brunch Sandwich
Prep time: 15 mins Cook time: 20 mins + BBQ preheating time

4 servings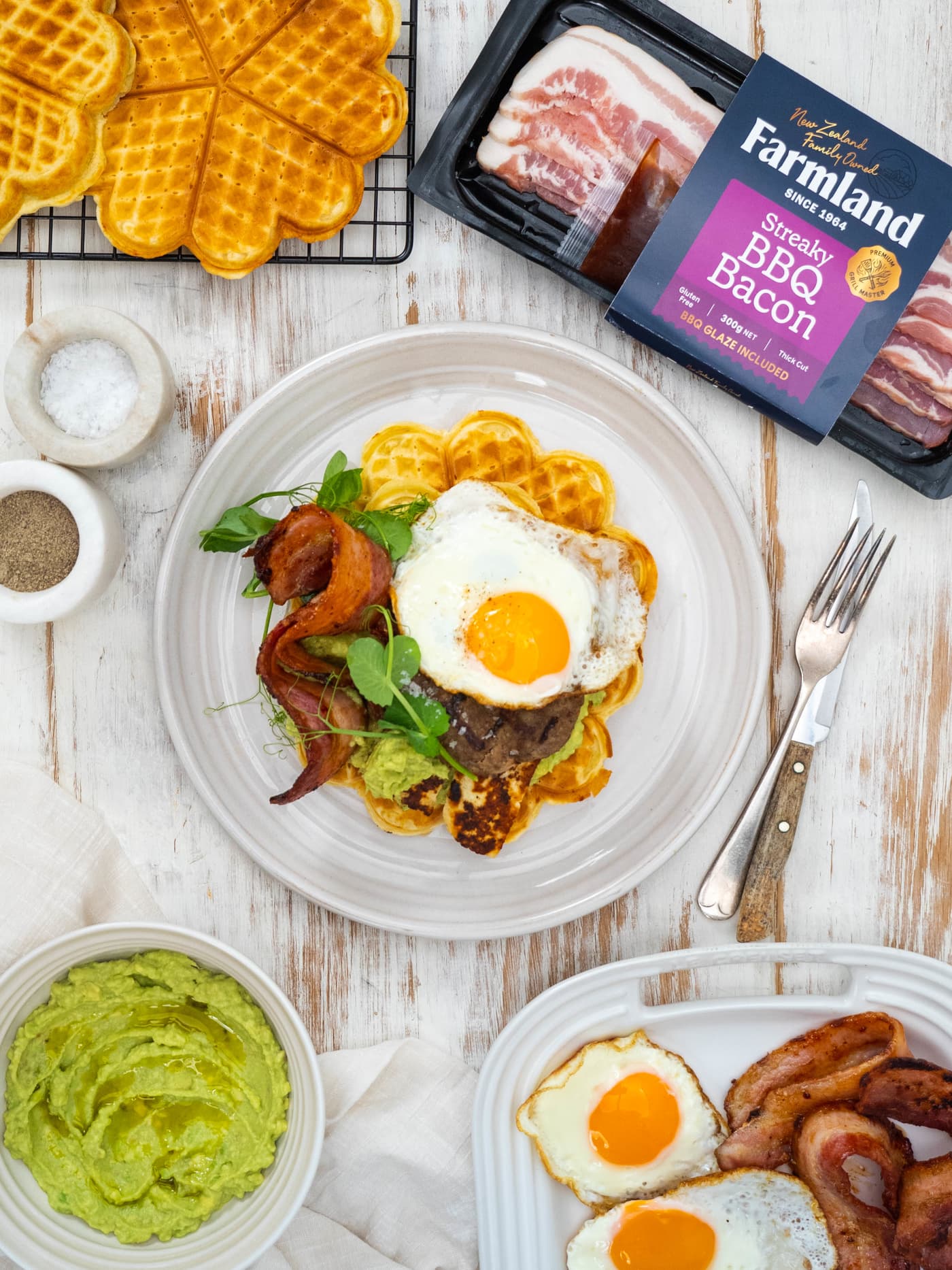 Ingredients
Waffles:
2 cups self raising flour
½ tsp salt
½ cup Yolo parmesan, finely grated
2 eggs, separated
1 ½ cups milk
100ml Olivado Avocado cooking oil, plus extra for waffle iron
Sandwich:Olivado Avocado cooking oil, for frying
4 Angel Bay Gourmet lite beef patties
1 pack Farmland Grillmaster bbq bacon thick cut with bbq glaze
1 pack Yolo Halloumi, sliced
4 eggs
salt and pepper, to taste
1 NZ Avocado, mashed
1 cup Superb Herb crazy peas
Equipment: Braun multiquick 9 hand blender, waffle iron, barbecue
Method
We love savoury waffles for a hearty brunch! Load waffles with these delicious ingredients and you'll be set for the day. We love to cook this alfresco on the barbecue but you can also do it over the stove. You can make the waffles ahead of time for a breezy brunch.
To see the full video recipe click here
Make the waffles: Sift flour and salt into a large bowl. Pour in parmesan and mix well.
In another bowl, use your Braun multiquick 9 hand blender to whisk egg yolks, milk and oil together. Pour into dry ingredients and mix well.
With your Braun multiquick, whisk egg whites until stiff then fold into batter.
Preheat waffle iron and grease with oil if necessary.
Ladle in waffle mix and cook as per iron's instructions. Set waffles aside.
Sandwich: Preheat the barbecue to medium heat. Liberally drizzle with oil.
Spread beef patties and bacon on the hot barbecue. Turn after 5 minutes, then cook for another 5 minutes. Remove bacon and finish cooking patties until fully cooked through, about another 5 minutes.