Venison Bacon Chilli
Prep time: 10 minutes Cook time: 45 minutes Serves: 4

4 servings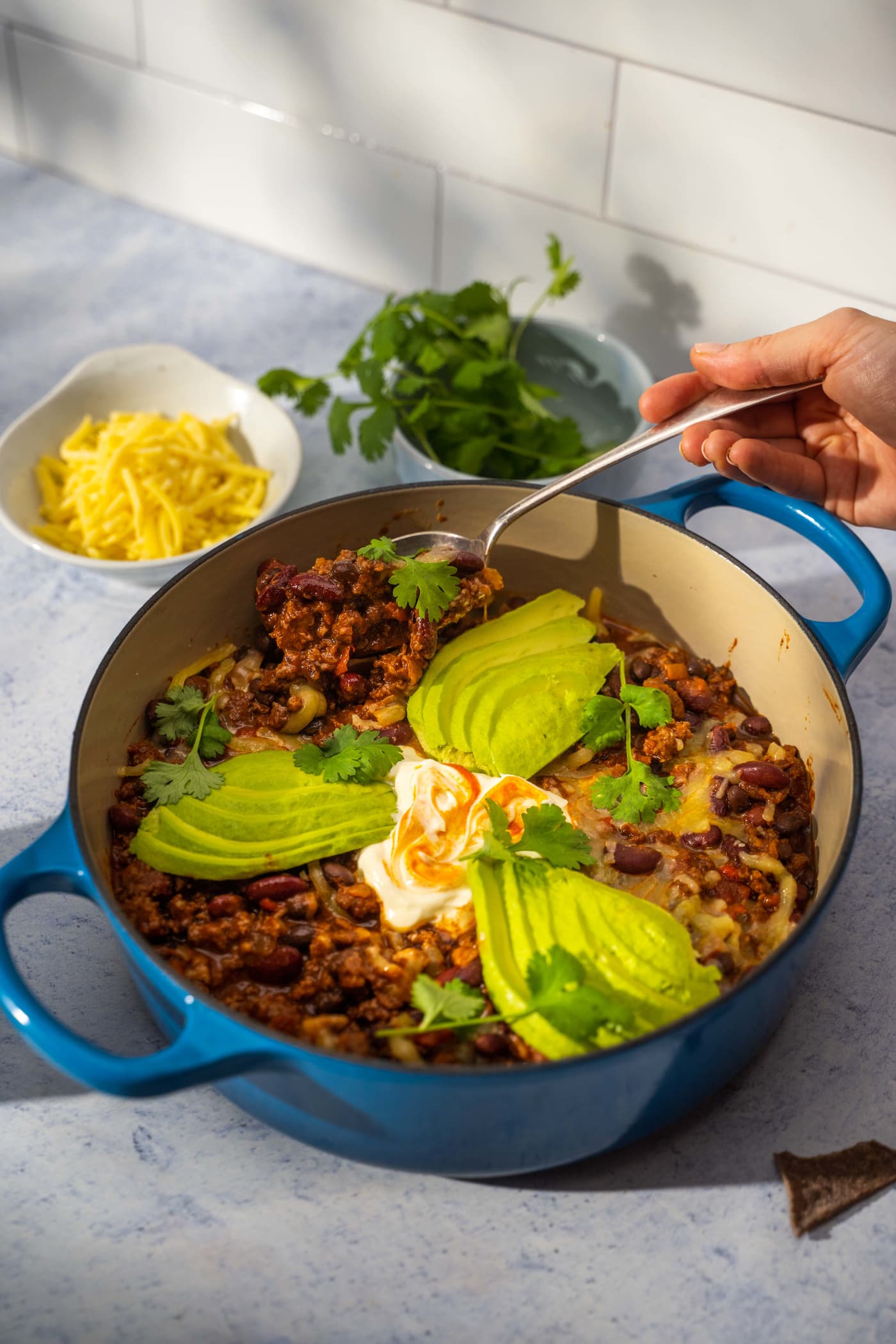 Ingredients
1 tbsp Olivado avocado oil with chili
1 large onion, diced
1 red capsicum, diced
125g Farmland thin sliced streaky bacon, diced
2 cloves garlic, minced
1 tsp ground cumin
1 tsp paprika
1 tsp ground coriander
½ tsp ground cinnamon
500g New Zealand farm raised venison mince
1 can (400g) Chantal Organics chopped tomatoes
2 tbsp Chantal Organics tomato paste
1 cup water
Salt and black pepper
1 can (400g) Chantal Organics red kidney beans, drained and rinsed
1 can (400g) Chantal Organics black beans, drained and rinsed
1-2 small pieces of dark chocolate (or 1 tsp brown sugar)
To serve:
2 NZ Avocados, sliced
A handful Superb Herb coriander
Sour cream
Grated cheese
Optional sides:
Cooked rice, tortillas, or tortilla chips
Method
A great chili must be one of the best dishes to serve at a casual get together. The lean and flavourful venison mince is a perfect fit for this easy favourite. In this recipe bacon adds the salty depth to the spiciness. Make a big pot doubling the recipe and freeze some for later days.
To see the full video recipe follow here
Heat the oil in a large pot or non-stick wok over a medium low heat. Fry the onion, red capsicum and bacon for 3 minutes.
Add garlic and all the spices and stir well, then turn the heat to medium high. Add the venison mince to the pan and stir fry, breaking up the meat with your spatula. Continue to fry until all the meat bits are well cooked. This will take 7-8 minutes.
Add chopped tomatoes, tomato paste and water. Season with salt & pepper. Bring to boil, then cover to simmer for 20 minutes, stirring occasionally. Add a little water if it is drying out.
Add the beans to the pot, bring to simmer again for 10 minutes. Stir in the chocolate /sugar, season to taste and turn the heat off. Let the chili rest in the pot covered for 10 minutes so that everything mingles!
Serve topped with avocado, cheese, sour cream and coriander with your choice of accompanying sides.