Summer Avocadough Quiche
Prep time: 15 mins (+ 15 mins waiting) Cook time: 50 mins

8 servings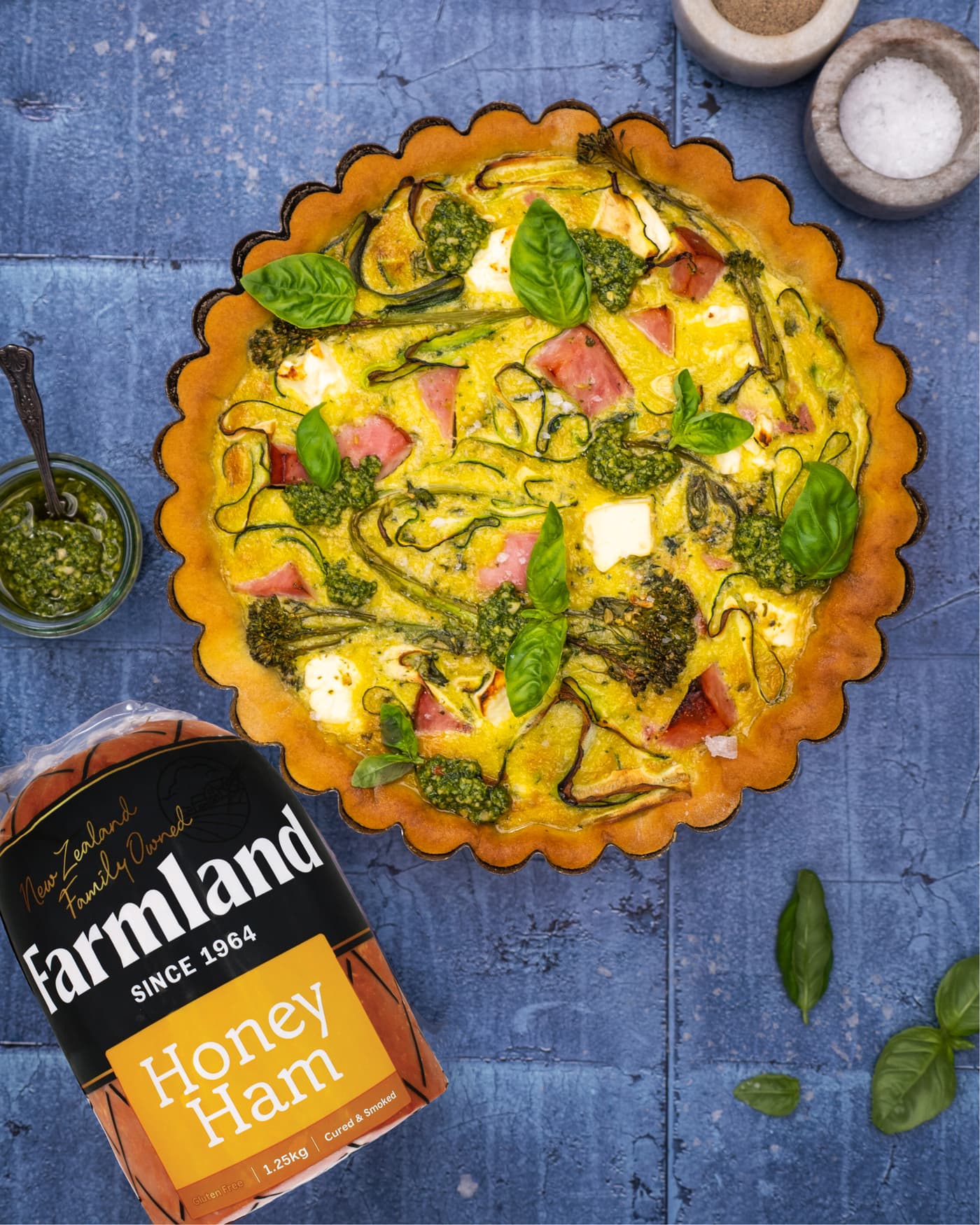 Ingredients
Avocado pastry:
200g mashed NZ Avocado ( approx. flesh from 2 medium sized avocados)
400g self raising flour, plus extra for flouring the bench
Ice cold water, as needed
Pinch of salt
Filling:
2 cups Farmland honey boneless ham, chopped
1 courgette, peeled in ribbons
1 bunch broccolini or asparagus, ends trimmed
5 eggs
⅔ cup cream
3 tbsp Seasons Gourmet vegan basil pesto with roasted pine nuts
200g feta, broken in chunks
Salt and pepper
To serve:
A handful of Superb Herb basil leaves
Method
Did you know you can make pastry with avocado? You surely can… we call it avocadough! The good fats in avocado mean you can use it instead of butter. Inspired by Jamie Oliver's avocado pastry, we make an avocado pastry quiche and fill it with summer veggies and ham. Yum!
To see the full video recipe follow here
1.Preheat the oven to 200°C.
2.For the avocado pastry: Add mashed avocado to a large bowl with flour and salt. Add cold water, a tablespoon at a time, until a dough forms. Turn out onto a floured surface and knead well. Wrap in clingfilm then rest for 15 minutes in the freezer.
3.Grease and line a 26cm quiche tin. Roll out pastry to the size of your quiche tin, then lift in and press down. Prick pastry with a fork all over, then bake for 10 minutes.
4.Turn the oven down to 170°C. In a large bowl whisk together eggs, cream and a generous amount of salt and pepper. Stir in pesto. Scatter ham, prepared vegetables and feta over the pre baked quiche pastry. Pour over egg mixture.
5.Bake quiche for 40 minutes, or until the quiche pastry is golden and the filling cooked through.
6.Scatter with basil leaves and serve.