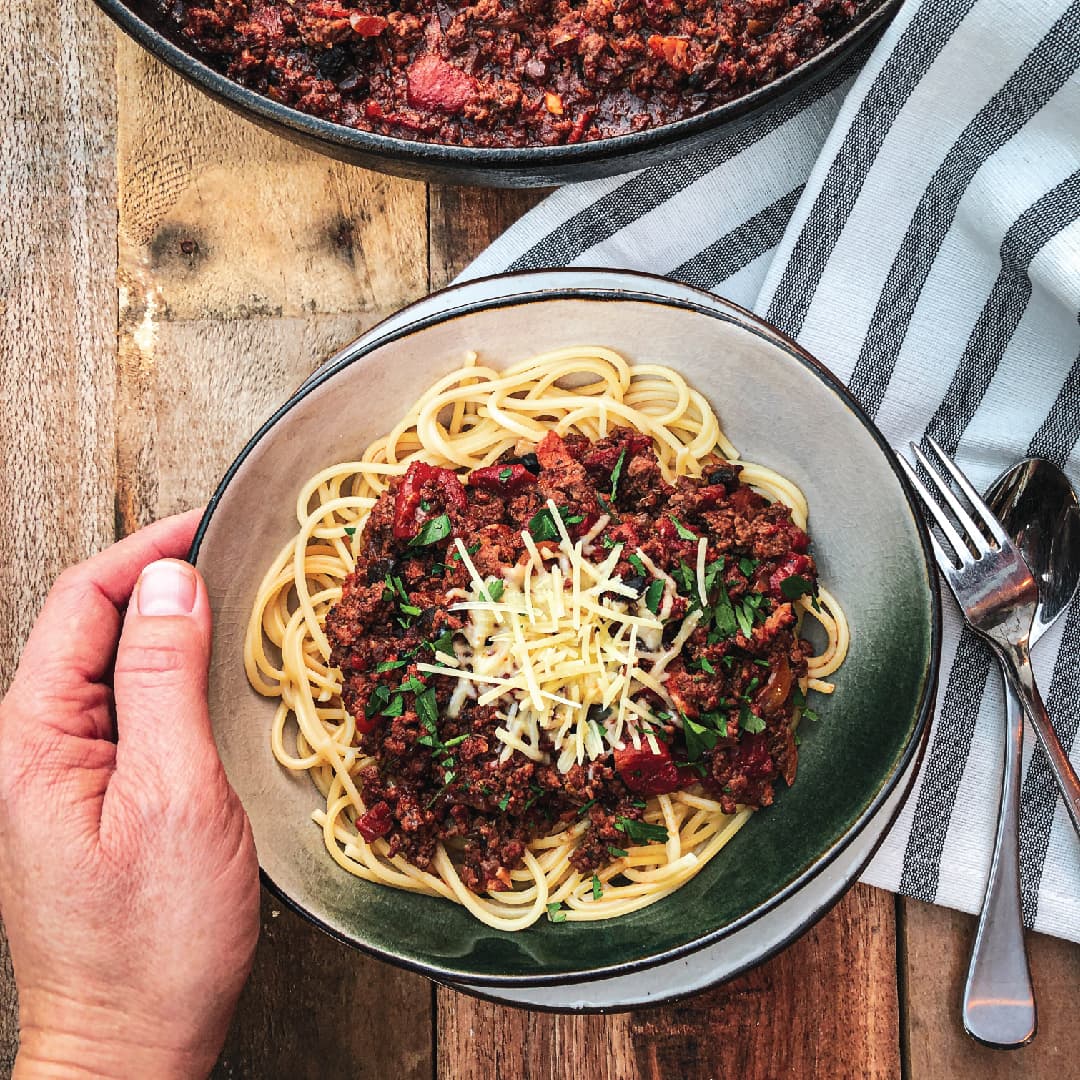 Ingredients
500g beef mince
4 rashers streaky bacon, chopped
1 large onion, chopped
1 large carrot, grated
5 cloves garlic, crushed
½ cup tomato paste
1-2 tbsp of dry mixed herbs or Italian herbs
1 tbsp dried oregano
1 x 400g can crushed tomatoes
1-2 cups beef stock
1 tbsp sugar
½ cup freshly grated Parmesan, plus extra for serving
salt black pepper to taste
cooked spaghetti pasta to serve
Optional – to garnish
handful of fresh basil leaves
½ cup chopped fresh parsley leaves
Method
Heat your largest frying pan over high heat add a splash of oil and add the mince. Quickly break it up with a wooden spoon, and cook until brown.
Wipe out the pan, place over medium-low heat and cook the bacon until crispy. Set aside.
Add a glug of olive oil, the onion, carrot and garlic to the pan. Cook, stirring often until the vegetables are soft. Add the tomato paste and herbs, turn the heat up and cook for another few minutes, stirring.
Add the mince and bacon back into the pan along with the chopped tomatoes, stock and sugar. Stir well and simmer over a medium heat, uncovered, stirring every now and then (you can add more stock or tomatoes if it looks too dry). When it has reduced to a lovely thick sauce, stir through the Parmesan. Taste and season as needed and serve on cooked spaghetti pasta and garnish with basil and/or parsley.