Banana, Peanut Butter and Bacon Cupcakes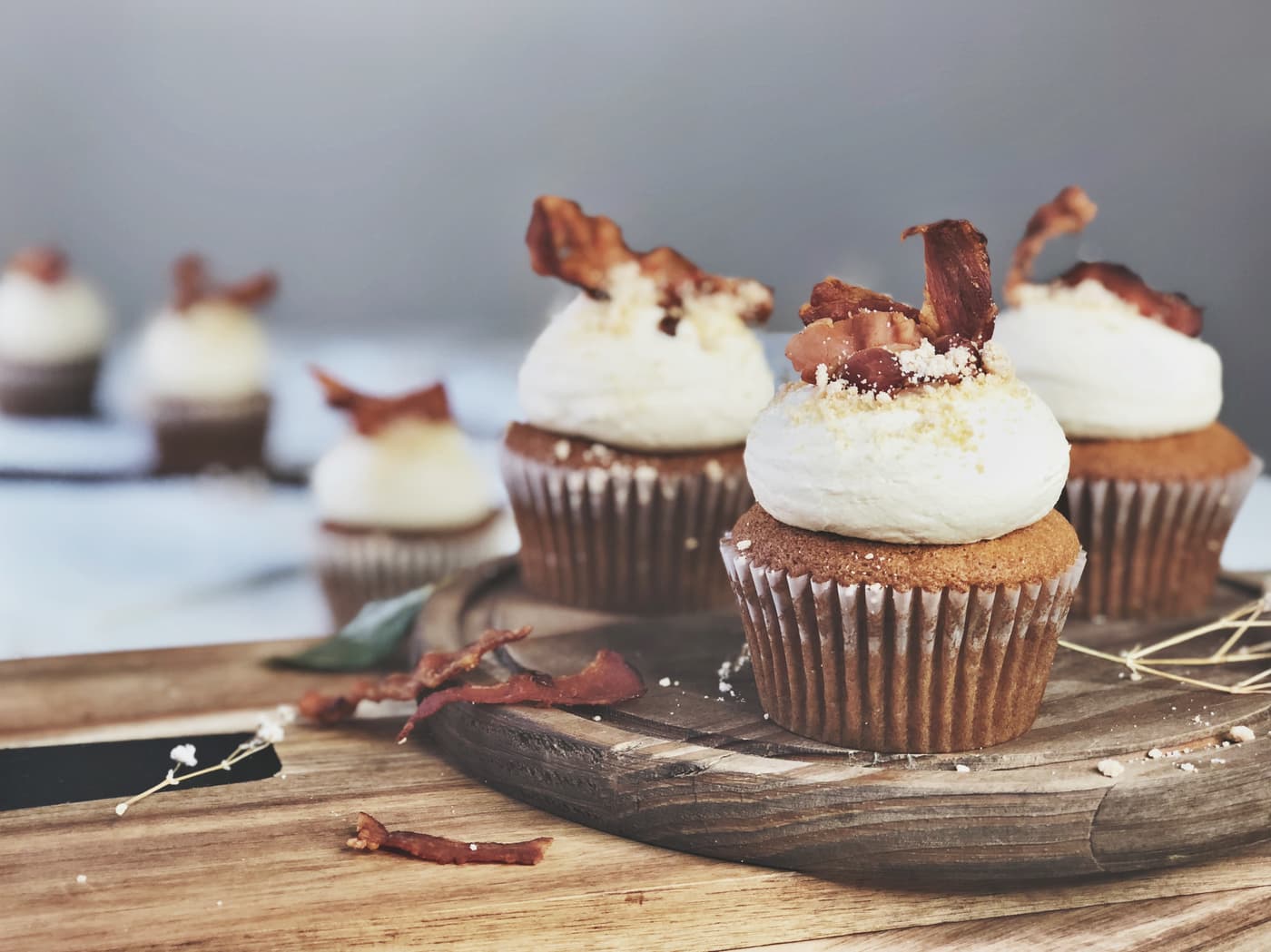 Ingredients
Cupcake
140g Self Raising Flour
½ Teaspoon Baking Soda
100g Caster Sugar
20g Brown Sugar
125g Butter - Softened
2 Large Eggs
½ Ripe Banana (Approx. 70g)
1 Tablespoon Milk
Topping
270g Icing Sugar
150 Butter - Softened
60g Smooth Peanut Butter
1 T Milk
4-5 Slices of Farmland Foods Thin Sliced Streaky Bacon
Peanut Crumb
30g Smooth Peanut Butter
30g Icing Sugar
Method
Our buddy Dane from Baker Gatherer created this yummy cupcake for us using our Thin Sliced Streaky Bacon.
Dane was inspired by the king of rock'n'roll who's favourite sandwich combo was – Banana, Peanut Butter and Bacon!
Evoking his inner Elvis, Dane wanted this to be the inspiration for his cupcake recipe. Starting with a soft banana cake, this is topped with a peanut butter buttercream and crammed full of crispy bacon. For that added something, sprinkle with a peanut butter crumb!
1. To start, flick oven onto 180 degrees bake and fill cupcake tray with cases. Set aside.
2. For the cupcakes, whisk together the sugars in a free-standing mixer.
3. Sift in the remaining dry ingredients and then add the eggs, butter and mashed banana. Beat for about 60 seconds.
4. Lower the speed and slowly add the milk before turning the mixer back up for about another 30 seconds.
5. Fill paper cases about two-thirds full and bake for 16-20 minutes or until cake springs back when touched. Allow to cool completely.
6. While the cupcakes are baking, flick oven onto grill and grill slices of bacon on a sheet of greaseproof paper until cooked and crispy (Or follow desired directions on pack). Allow to cool while you make the buttercream.
7. For the buttercream, beat butter and peanut butter in free-standing mixer for 5 minutes, scraping sides down occasionally.
8. Sift icing sugar and add to the butter in two stages, beating for another 3 minutes between additions.
9. On a slower speed, add the milk, then turn mixer speed back up and beat for another few minutes.
10. To make the peanut crumb, mix peanut butter and icing sugar together until it forms an even crumb and set aside.
11. Once the cupcakes and bacon are cool, pipe a blob of buttercream, cram full of crispy bacon and sprinkle with the peanut crumb. This will have you all shook up!