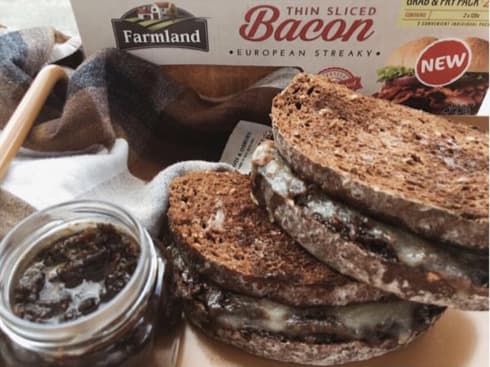 Ingredients
375g Thin Sliced Streaky Bacon
6-8 small red onions, sliced thinly
½ cup + 2 tbsp balsamic vinegar
½ brown sugar
Pepper and Me man grind and a dash of Bakers Grind for seasoning
Method
Preheat oven to 200. Lay bacon slices out in a single layer on baking paper. Bake for 10-15 minutes or until the bacon is nice and crispy. Lay out on paper towels to drain and set aside, reserve 2 tablespoons of the bacon grease.
Add the bacon to a large pot or frying pan and heat over medium. Add onions and stir around to coat with the bacon grease. Allow to slowly cook until onions have softened and browned, check every ten minutes or so to stir and scrape any black bits from the bottom of the pan.
Once the onions are a dark golden brown colour, deglaze the pan with the 2 tablespoons of balsamic vinegar, scraping the pan as vinegar dissolves. Add remaining vinegar, brown sugar, man grind and bakers grind, stir until thick glaze forms.
Add the onion mixture and bacon to a food processor and pulse until the desired consistency forms. Scoop jam into a jar and devour. Keep in the fridge and use within one week.