Bacon Guacamole Chicken Bombs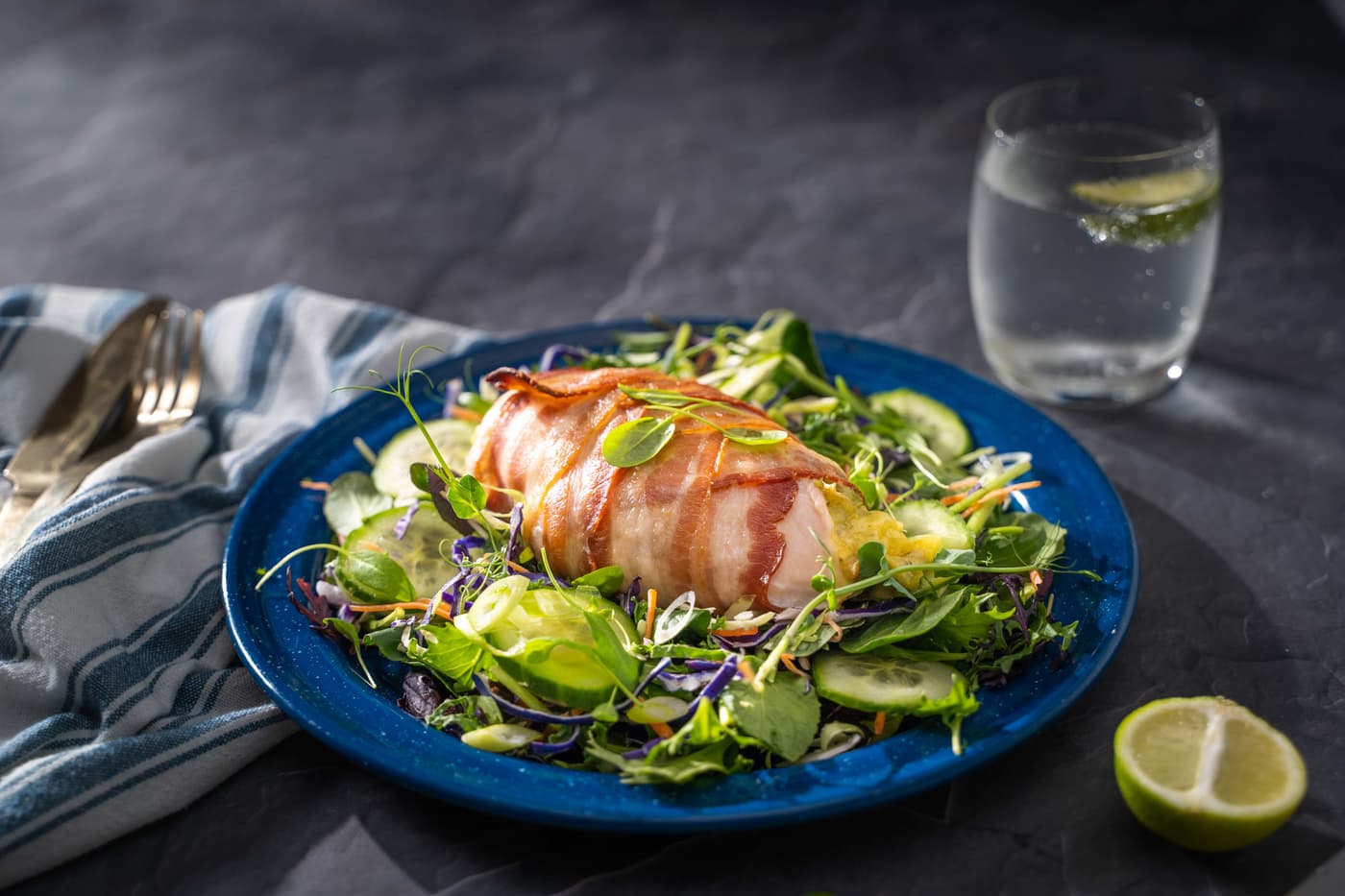 Ingredients
2 Waitoa Free Range Chicken Breast Fillets
125g Farmland streaky bacon
½ NZ Avocado, peeled and stone removed
2 Tbsp Obela Deli Style Dips, Basil Pesto, Pecorino & Cashews
1 tbsp Superb Herb Basil, roughly chopped
1 ts Superb Herb Thyme, roughly chopped + extra for serving
4 slices of brie or camembert
Spray oil
To serve:
Micro herbs
Pea tendrils
Spring onion
Favourite fresh salad ingredients
Method
Chicken, bacon, avocado and brie, is there a better combo? Featuring pesto guacamole. These bombs are easy to whip up for a fast but tasty dinner option.
1.Preheat the oven to 200°C fan bake. Line a deep dish baking tray with baking paper.
2.Mash avocado with basil pesto in a small bowl. Stir through herbs until just combined. Set aside.
3.Butterfly-cut the chicken breast fillets. Place one hand on top of chicken to keep it steady. Insert a sharp knife to slice into one side of the breast, starting at the thicker end. Be careful not to cut all the way through to the other side.
4.Open up the butterfly, spoon half the avocado mixture and 2 slices of cheese onto one side and fold to close.
5.Wrap the streaky bacon around the chicken to enclose the filling.
6.Place onto the baking tray. Spray with a little oil. Bake for 30 –35 minutes. Until bacon is golden brown.
7.Serve with your favourite salad.