Bacon corn fritters with avocado salsa
Prep time: 10 mins Cook time: 25 mins

4 servings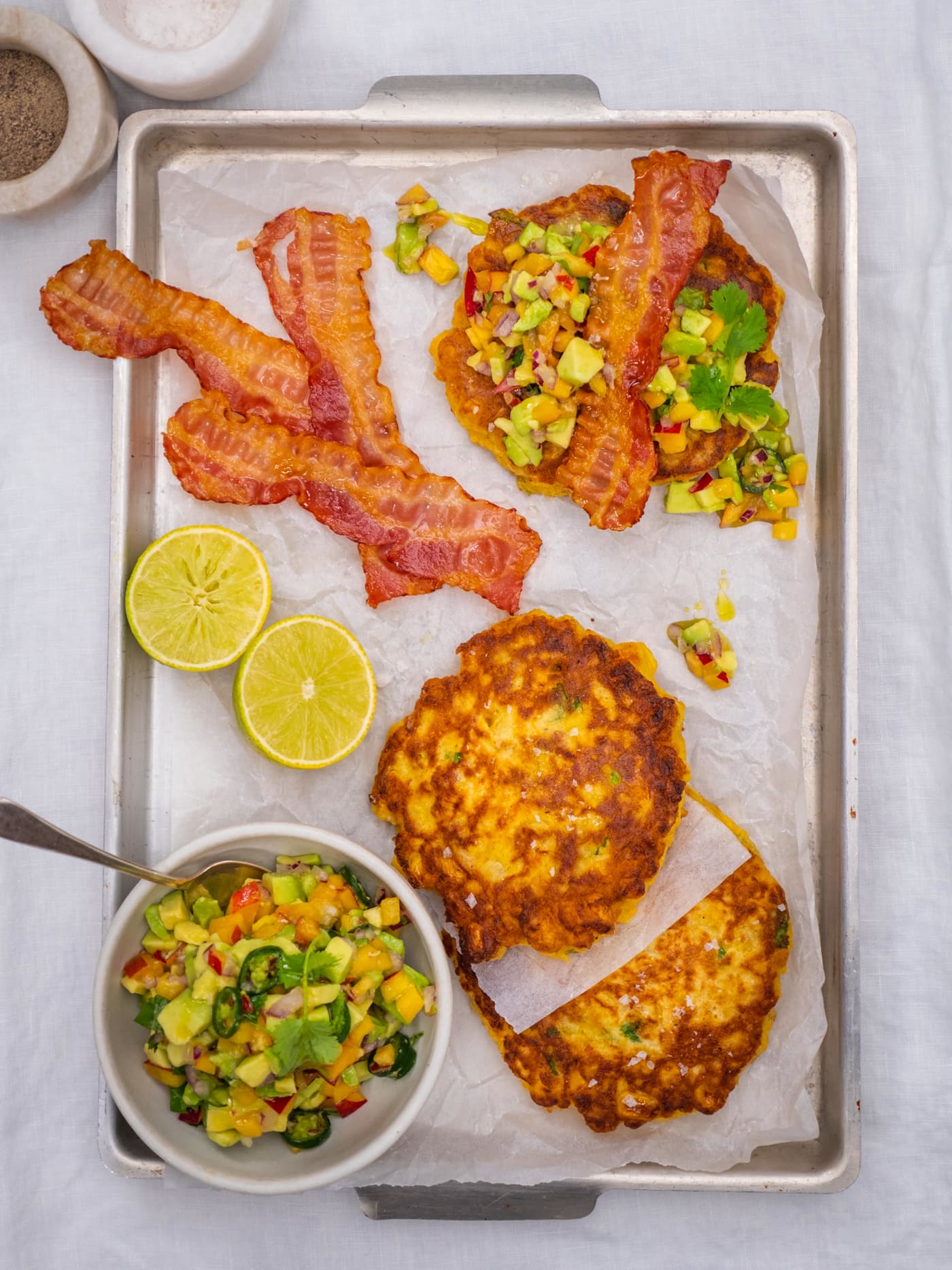 Ingredients
250g Farmland thin sliced streaky bacon
Bacon corn fritters:
½ cup self raising flour
2 free range eggs
300g corn kernels (fresh, thawed from frozen, or canned)
⅓ cup Superb Herb coriander, chopped
1 spring onion, thinly sliced
Salt & pepper
Olivado avocado cooking oil, for frying
Avocado salsa:
2 NZ Avocados, scooped & diced
3 nectarines or other stone fruit, stone removed & diced
¼ red onion, finely diced
1 garlic clove, crushed
1 chilli, finely chopped (optional)
¼ cup lime juice
½ cup Superb Herb coriander, roughly chopped
Salt, to taste
Method
Corn fritters are a summer essential. Ours are extra delicious with bacon and served with a chunky avocado salsa. These are easy to pack up for a picnic at the beach. If you're bacon obsessed like we are, then feel free to fry up some extra rashers to serve on the side.
To see the full video recipe follow here
Preheat the grill to high (230°C). Lay bacon rashers on a lined baking tray and grill for 5 minutes, turning halfway, until cooked and crispy. Set half aside (to serve with corn fritters) and finely chop the other half.
In a large bowl mix all avocado salsa ingredients together. Season to taste, then set aside.
For bacon corn fritters: add eggs and half the corn to a blender and blend until smooth (or add to a bowl and use a stick blender). Pour into a large bowl and fold in flour, remaining corn, chopped cooked bacon, coriander and spring onion. Liberally season with salt and pepper.
Heat a generous drizzle of oil in a large nonstick frying pan over medium heat. Add ladles of fritter batter, smoothing out each amount to a flat fritter shape. Fry each fritter for 3 minutes each side, until browned and cooked through. Work in batches, adding oil when necessary.
Serve fritters with avocado salsa and extra bacon. Yum!
Tips:
-For gluten free diets simply swap the flour for gluten free self raising flour.
-The avocado salsa is also delicious on tacos, or served with fish and chicken.