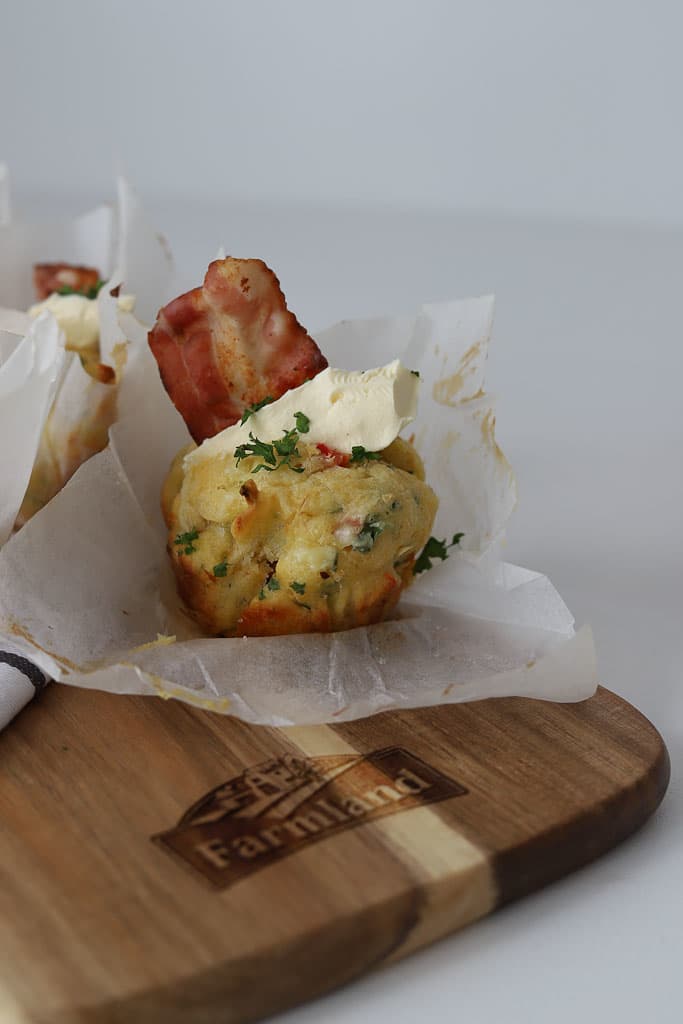 Ingredients
2 cups flour
1 teaspoon Pepper & Me Man Grind plus extra for sprinkling
4 teaspoons baking powder
1 teaspoon sugar
25 grams butter melted
1 egg
1 cup milk
1 cup grated tasty cheese plus extra for sprinkling
½ red capsicum finely diced
1 carrot grated
1 courgette grated
Bunch parsley finely chopped plus extra for sprinkling
250 grams Farmlands Thin Sliced Streaky Bacon
100 grams cream cheese
Method
1. Turn on the oven to 180 degrees, while the oven is warming up prepare the muffin mixture.
2. Cook the whole 250-gram pack of our Thin Sliced Streaky Bacon until nice and crispy, put aside to drain on paper towels.
3. Finely chop the capsicum and parsley, put aside. Grate the carrot, courgette and cheese, put aside.
4. Mix dry ingredients in a large bowl.
5. Beat egg and add to melted butter and milk.
6. Add the wet ingredients to the dry ingredients and combine, careful not to over mix.
7. Break or cut in half horizontally 6 rashers of bacon and put aside to add as the topping. With the rest of the bacon rashers, break up or cut into small pieces.
8. Add in the bacon, veggies and cheese and gently stir in.
9. Spoon the mixture evenly into the muffin liners and sprinkle with the extra grated cheese.
10. Bake 180° for 12-15 minute or until golden.
11. Once the muffins have cooled, gently cut a slit in the top of the muffin and add a wedge of cream cheese and a piece of bacon, sprinkle with parsley and a dash of man grind.
Recipe created for us by Jules from the Style Aesthetic