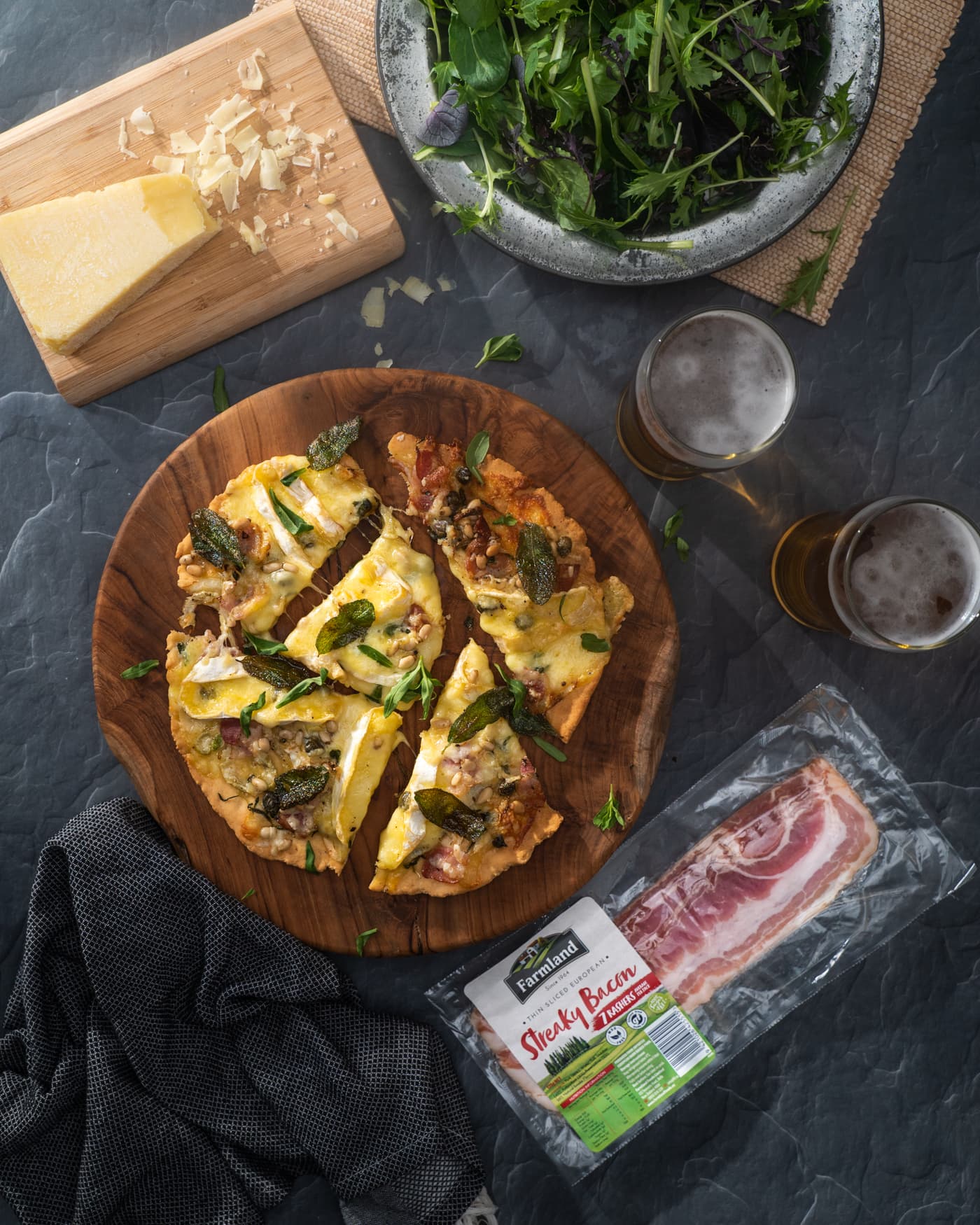 Ingredients
4 rashers Farmland streaky bacon, chopped
½ fennel bulb, mandolined
2 tbsp Olivado Extra Virgin Avocado Oil with Lemon Zest divided
2 small pizza bases
¾ cup mozzarella cheese, grated
2 tbsp Superb Herb Tarragon leaves
1 garlic clove, thinly sliced
8 slices brie cheese
1 tbsp FreshLife pine nuts
1 tbsp capers
Parmesan cheese, shaved
salt and pepper to taste
Garnish (optional)
Superb Herb Tarragon
crispy sage leaves*
Method
Try this delicious pizza with fresh tarragon, fennel and brie cheese. A pizza Bianca is a white pizza without a tomato base. Buy store-bought bases and cook them in the airfryer for an extra fast and delicious dinner., alternatively, these can be cooked in an oven if you don't have an airfryer.
Toss fennel with half the avocado oil. Season with salt and pepper.
Drizzle with remaining oil over the pizza bases. Sprinkle on grated mozzarella, tarragon and garlic. Place prepared fennel on, then top with bacon, capers, brie, Parmesan and pine nuts. Season with salt and pepper.
Carefully lift topped pizza onto the pizza tray. Then place into the Airfryer XXL. Air fry at 160°C for 10 minutes, until the pizza base is crisp and the cheese is bubbling.
Slice and serve with garnish (optional).
*Tip 1
: to make crispy sage leaves, heat butter in a frying pan. Once butter has melted, drop in whole sage leaves. Toss every 30 seconds until crispy.
Tip 2: If you are gluten-free simply choose a gluten free pizza base. Easy!